A national holiday for all to actually be thankful for things they have. A rather thoughtful tradition, Thanksgiving is huge in the USA.
A major festival to begin the Holiday season. A national holiday for all to actually be thankful for things they have. A rather thoughtful tradition, Thanksgiving is huge in the USA. This requires a ton of preparations including setting up a food menu, preparing traditional dishes, guest list and also decor. Thanksgiving in modern day is an event to celebrate bounties of life and people around you. So a thanksgiving dinner with friends and family is a must. With so much buzz around thanksgiving you would also need thanksgiving flower arrangements to set up a table or decorate the space around. Setting the mood right and prepping the surroundings is a big part of any festival. And flowers have been traditionally used.
Here are some thanksgiving flowers ideas that will work best for you -
Sunflowers
Well when it comes to decorating big events and spaces then sunflowers are a great pick. Popular for their dazzling appearance, size and boldness. This mesmerizing flower is something you can go for. Sunflowers are easy to find at your Florist in Glendale AZ. Now, you can always go with plain sunflowers around your center table or entry way but to make it look grand the Tip is to add different flowers together. With Sunflowers you can add red roses or chrysanthemums since it goes well with a yellow tone. You can also add little things like ribbons and fancy-looking vases to your bouquet.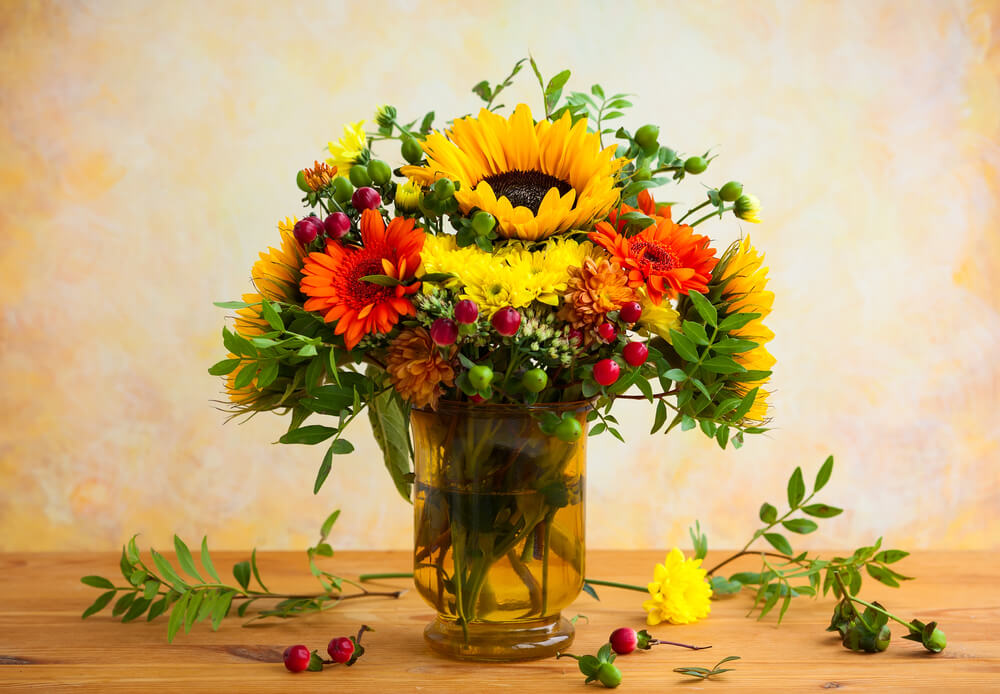 Roses
Mixing roses is great but having rose as your dominant flower is another level. Roses are a traditional flower for various festivals since its origin goes back to ancient greece. Roses have been a part of Greek mythologies, religion and cultures of the world. Ditch the regular circular vases rather go with a landscape orientation this time to switch things up. Begin with adding roses in a zig-zag pattern, to this you can add green button poms, white hydrangeas, and some filler flowers like statice and stock. This will give the whole arrangement a good mix of modern with traditional flowers.
Lilies
Well if we are talking about grand flower bouquets we cannot miss out on lilies. Asiatic lilies have three peats that bloom out and make the flower look impactful but not in your face. Lilies are easy to work with because they are effortless. You can go with a bunch of lilies and that should be it. Coming to the color, we recommend going with orange lilies. Orange color symbolizes passion and positivity. You can add to this bouquet flowers like peach roses, even sunflowers, daisies and lilies will still stand out.
Daisies
This flower is the real deal, daisies are again pretty generous with mingling with other flowers. They make good companions to any flower bouquet and add their own charm. Daisies surprisingly have a sub-type of more than 200 species. So you will definitely find one for your bouquet. Daisies in general are a representation of innocence, purity and true love.
Get your Thanksgiving Flowers in Glendale AZ along with a bunch of other bouquets as well. Be flower ready for the holiday season with Elite flowers and gifts.