Every year on March 8th, International Women's Day is commemorated.
Every year on March 8th, International Women's Day is commemorated. This annual event, which highlights the issue of women's rights around the world, has a rich and illustrious floral legacy that dates back to the early 1900s.
How is Women's day celebrated with the Official Flower?
The importance of women is honored on this day by the gifting and receiving of mimosa flowers for international womens day. Every year in Italy, in the weeks leading up to the Festa Della Donna, you'll see a swarm of vivid yellow mimosa blooms. On International Women's Day, people wandering about with newly purchased posies of mimosas on their way is a familiar sight in Italy.
Mimosa flower bouquets will be given to women by the males in their lives, such as fathers, spouses, sons, friends, or employers. This shows love and appreciation. But it's not only about men presenting women with flowers. Mimosas are also given to ladies who are important to them. Such as their moms, sisters, friends, and other female relatives. If you're in Italy for International Women's Day, several hotels will provide their female guests with a pitcher of mimosas.
In many parts of the world, giving flowers on International Women's Day is a long-standing custom. Bosses will give roses to female colleagues, boys to their teachers, and youngsters to their mothers throughout Russia. The constituent states of the former Yugoslavia, such as Bosnia, Herzegovina and Croatia convey womens day wishes with flowers.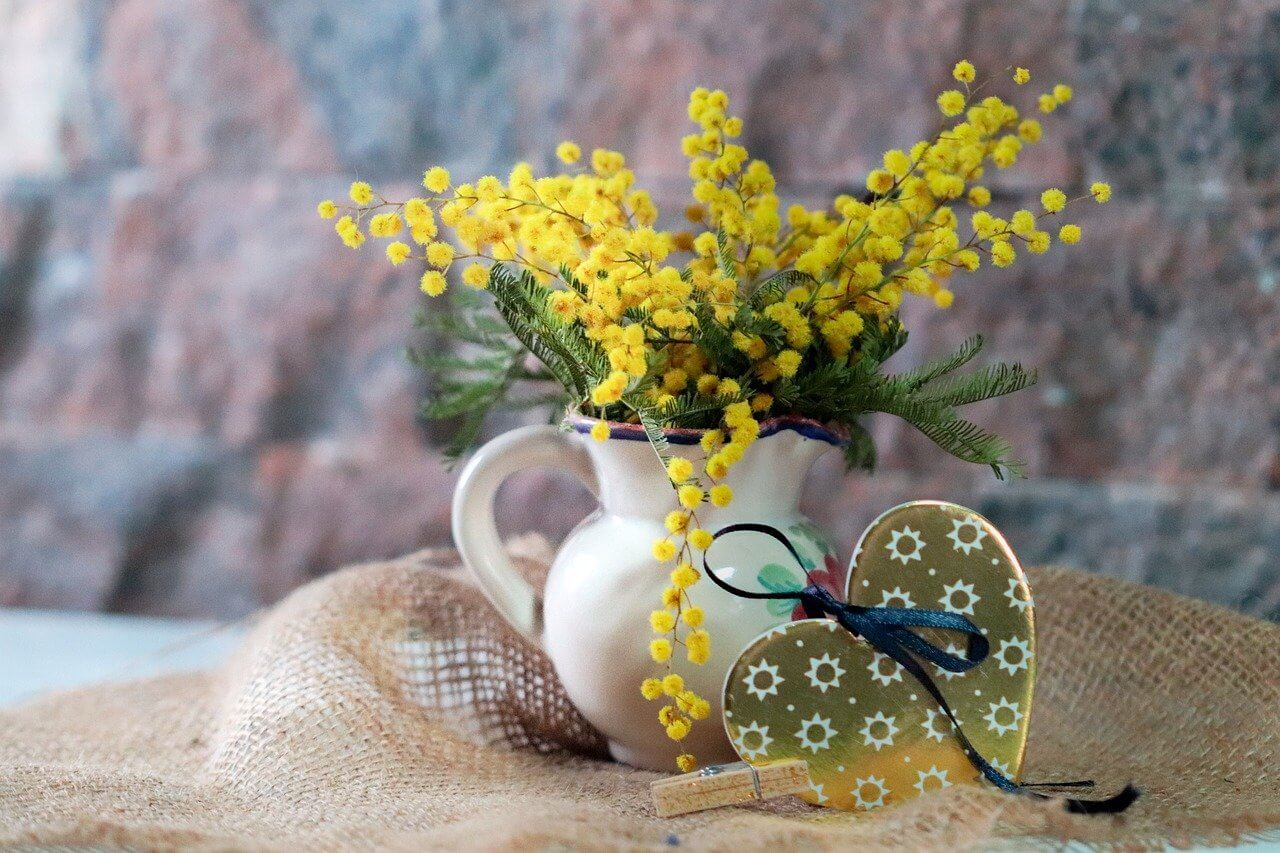 Significance of Mimosa Flower
Teresa Mattei, one of Italy's earliest female politicians, is reported to have been responsible for the mimosa being the symbol of Women's Day in 1946. It was picked for its vibrant color, fragrant scent, and year-round availability.
In Italy, the Festa della Donna is commemorated by the exchange of mimosa flowers. They were identified as a symbol of strength and sensitivity in the aftermath of World War II. Mimosa is the first flower of spring to bloom, according to anecdotal evidence.
Giving mimosa flowers on March 8th is considered a solidarity gesture rather than a romantic gesture.
The symbolism of the Mimosa flower
Mimosa appears to be a delicate flower, but it is actually quite hardy and can thrive in even the hardest of conditions. It's bright yellow color and fragrant scent can lift your spirits. It has relaxing and stabilizing qualities and is utilized in traditional herbal therapy.
Mimosa blooms are frequently associated with concepts of common sense and good judgment. They can also be used to demonstrate that you want to "grow" your life in terms of your profession, family, or even travel.
In certain cultures, the flower is associated with sensitivity and is presented as a grieving gesture. Mimosa blossoms are associated with Women's Day in the United States.
Looking for Women's Day Flower Delivery Glendale AZ? Explore Elite Flowers and Gifts for the greatest and freshest flowers in Glendale. Check out our extensive floral arrangements among the best Glendale AZ Florist to make your next occasion special.